With a growing emphasis on sustainability and environmental impact across the globe, Dubai has begun positioning itself as a leader in facilitating green businesses and startups, evidenced by the UAE Green Agenda and government support for new and innovative green ideas. As a result, Dubai has seen an emergence of eco-friendly startups and initiatives. With an estimated 100,000 jobs expected to be generated by 2030 in the UAE from renewable energy alone, it is clear that Dubai holds an abundance of opportunities for entrepreneurs and organisations looking to establish green businesses.
What Is a Green Business?
A green business (also referred to as an eco-friendly business) is a company that does not negatively impact the environment, economy or community. A green business will always prioritise utilising sustainable and socially-responsible practices.
Benefits of Starting an Eco-Friendly Business in Dubai
Why start an eco-friendly business in Dubai? There are numerous reasons why Dubai could be the best location to launch your green venture.
Simple Business Set-Up
When forming a business through DMCC, you can enjoy a seamless and simple business set-up that takes an average of 2 weeks. In addition, the expat-friendly visa regulations means you can quickly get a residency visa not just for you but also for your employees and family.
Supportive Government
The Dubai government offers world-class facilities, incentives and safety to foreign investors looking to kick start their business. Moreover, the government regularly amends regulations to facilitate increased business opportunities and organises numerous events and initiatives for business expansions. It shouldn't come as any surprise then that the UAE ranks at the top spot for the Global Entrepreneurship Index 2022
Business-Friendly Tax Policies
The UAE offers a wealth of tax-friendly policies to support the growth of businesses. Businesses. Businesses earning less than 375,000 UAE dirhams ($102,000), will not need to pay taxes due to the government's initiative to support small businesses and startups in the region. Individuals will still not be taxed on their incomes from work, real estate, equity investments and/or other personal income not related to UAE business.
Strong Economy
Dubai boasts an incredibly strong and lucrative economy for foreign-invested companies. In 2021, Dubai was placed third globally for greenfield foreign direct investments. In 2020, Dubai recorded over 6.5 billion USD worth of FDI across 455 projects exceeding the 9.8 billion USD of FDI raised in 2019.
Great Living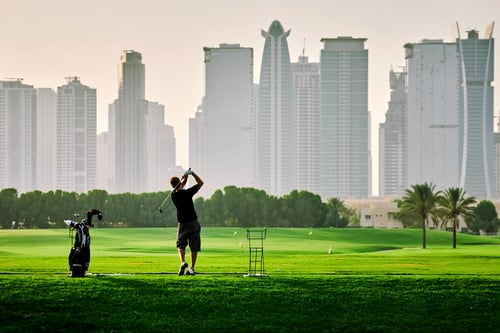 Thanks to its range of facilities and entertainment venues, friendly local population, and common use of the English language, Dubai has been repeatedly hailed as one of the top cities for expats to reside in.
Eco-Friendly Business Ideas
With UAE's focus on fostering eco-friendly and green ventures, there are a plethora of opportunities and gaps in the market to close. Here are a few eco-friendly business ideas in Dubai for aspiring entrepreneurs to take note of.
Eco-Retail
There are numerous eco-retail opportunities to capitalise on. You can set up a green product store and sell sustainable and eco-friendly products such as cleaning agents, utensils, and more. When you combine consumers' growing desire for a sustainable shopping experience with UAE's projection of retail sales to reach heights of 70.5 billion USD by 2025, a compelling case for launching a green retail business stands strong.
Eco-Tourism
Despite the pandemic, Dubai attracted over 7.28 million visitors in 2019, highlighting the city's position as one of the most popular tourist destinations. However, there is still tremendous untapped potential for eco-tourism in the UAE. Research conducted for Expo 2020 Dubai found that 44% of visitors considered sustainability an "important concept influencing their behaviour" and that 22% of respondents identified themselves as sustainability-minded travellers. This indicates a clear demand for sustainable tourism and experiences. 
Eco-Consulting
With the sustainability consulting market set to double in size within the next five years, we predict to soon see a significant demand for these types of services in Dubai and across the UAE. As the UAE implements its Green Agenda, many businesses in Dubai will be seeking counsel to help navigate their operations to fit alongside new sustainability regulations and expectations whether it be sustainable reporting or reaching carbon neutrality.
How to Start an Eco-Friendly Business in Dubai?
When planning to start a business in Dubai, you will need to complete the following steps to establish your green business. Take a look at our article which simplifies the process into six easy steps.


Identify your business activity


Decide on a free zone


Choose your company name


Apply for initial approval


Open a corporate account


Find an office location


Apply for final approval
Bottom Line
There is clear demand and huge opportunities for entrepreneurs wishing to start their own green business in Dubai. Luckily, the immense amount of support from the government and seamless company-set up process can make this wish a reality. Contact DMCC now to set-up your green business.