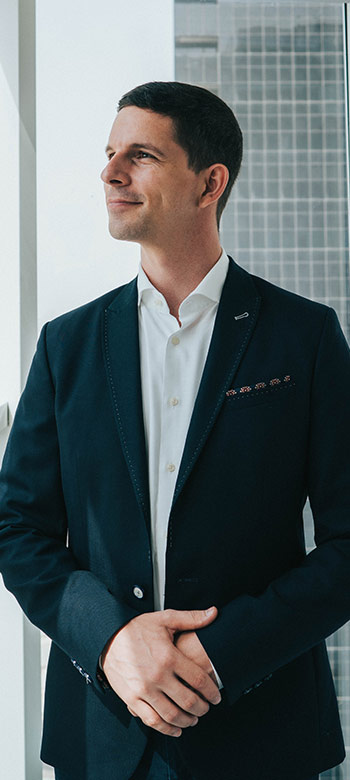 THE FOUNDER
A man of purpose and passion. He is one among the few. He is rare and stands out. In the corporate world, most especially, few can be called business leaders. For the true business leader goes beyond completing tasks and projects in an excellent fashion, this leader is one who is a master on making connections and building trust with anyone. The true business leader is one who goes beyond closing transactions and remarkably opens and strengthens relationships between people, establishing partnerships and solidifying agreements.
Björn Lakebrink, the man behind German Arabian Advisory & Business Centre, is one among the rare trailblazers of our time. Accomplishing projects with significant results through his collaboration endeavours, networking and partnerships is what his business life is about. He is known to deliver a unique and genuine friendly approach where his passion radiates on every delivered project. For Björn, whatever task or project it is, it all goes back to "passion".
Marking his footsteps at an early age with his own company, having a university background in Business Management, he has begun his career on the IT industry. Being a young savvy, he aimed to build a solid base in both business and IT. Along the years, Björn has constantly substantiated his skill to lead through diversity and challenging business projects around the world. He has been able to assess and objectify critical and valuable ideas, being able to plan strategies for his team. Björn's career expectedly accelerated over the years and has expanded far beyond what he has aimed.
It was early 2013 where he decided to step out of his comfort zone and penetrated the Gulf market, focusing mainly in Dubai, United Arab Emirates; another project – a thirst for passion. This was when German Arabian Advisory & Business Center was created. He has made a valuable contribution to Dubai Multi Commodities Centre (DMCC) Free Zone where he built a bridge for the European market to engage with UAE through opening DMCC's Representative Office in Germany.
From a one floor Business Center, to assisting companies through our Advisory service, and now expanding our services with our third floor Business Center to cater the influx of clientele. Passion remains with him and he believes that there is undoubtedly more yet to learn, more partnerships to close, more agreements to sign, more problems to solve, and yet more opportunities to open.
And for all of this, he is grateful.